Why are our prices a little
lower than our competition?
We build software that is easy to
implement, easy to maintain and easy to
use. This cuts support costs and, overall
company costs. We pass this on to you
Have a question?
If you have a question about
your KANINE software
subscription, please call us at
Main: (800) 992-6031
Fax: (712) 823-0433

Our mission at Code Blue Designs is to provide law enforcement as well as other public
agencies with an affordable alternative to higher priced software. Our goals include; creating
software solutions designed to be user-friendly, mission oriented, proficient and affordable.
With that in mind, our staff is dedicated to providing software that allows valuable information
to be available the moment the officer needs it. It is our intent to provide the best product and
service possible, while maintaining economical production strategies subsequently maintaining
product costs that are affordable for all agencies.
At Code Blue Designs, we promise to listen. We promise to consider each and every request that our users have. We promise
to consider your needs first and foremost. We promise to be straight forward with you. If our product is not exactly right for
you, we want you to know. We're not just another software company where money is the all driving force. We've been there.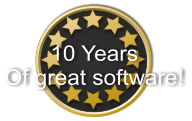 Amazing, innovative software that's getting better all the time.
Code Blue Designs
Law Enforcement Software
We use our law enforcement experience to provide you with the best possible software for the real world.