Main screen with dashboard closed

Deployments in full-screen list mode
Here are some screen shots of the new KANINE Version
5.0 software.
Selection List Maintenance Screen
Main screen with dashboard opened
Weather tab (Deployment and Training Records)
Main screen in blue with dashboard opened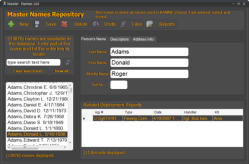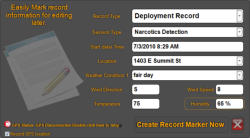 KANINE Version 5 Screen shots
Click on the screen shots below to view a larger image of the screen shot. You will notice that some screen shots show orange
text in the screen shot, while others show blue or a different color. This is because we wanted to show how KANINE version 5.0
allows the user to change the text theme color, for the entire application, to any selectable color.

Main Screen with Dashboard closed
KANINE Version 5 allows the user to scan a custom patch or badge to be displayed on the main
screen when the information panels are closed. The user can resize the patch as desired and set the
transparency with which it's shown.

Main Screen with Dashboard open.
KANINE Version 5 displays a variety of information in the information panels on the main screen.
These panels can be resized and selectively closed as desired. Information displayed includes the
current weather, database statistics, customizable web links and personal reminders.

Training Record Screen
KANINE Version 5 brings complete standardization to both Training and Deployment records. On
screen help for every field, easy navigation with comprehensive shortcuts and automatic filling of a
great amount of information including weather, if internet connected.

Weather tab (Deployment, Training and certifications)
Knowing that weather can play an important part in how a K-9 performs in certain situations,
we have included the ability for KANINE to automatically grab the current weather conditions and
insert them into your training, Deployment and certification records.

Full screen mode
At the touch a button, KANINE allows you to view your records in full screen mode so that you can
view more records at once when looking for a certain record.

Selection List Maintenance
KANINE Version 5.0 allows you to customize more pop up list information than ever. The new list
maintenance screen is functional as well as intuitive. And, now you have the ability to store your list
data online so that it can be shared with the rest of your team.

User adjustable theme color
KANINE Version 5.0 allows you to select any color you choose as the text color theme.
The selected theme color is then used throughout the entire application.

GPS Logger maps out your tracks for you.
With the optional GPS TrackPack, KANINE will do the heavy lifting of drawing out your entire K-9
track for you. Simply turn the unit on, put it into your pocket and go. When you return to your
computer, KANINE has all of the necessary functionality to download the data and turn your track
into a satellite or street map.
GPS TrackPack $99.00 per unit

Enter names only once and easily locate them when you need
them next.
The KANINE version 5.0 Master Names screen allows for easy name entry for those names
associated with your deployment records. This version is more functional, faster and more user
friendly.

Easily create new profiles for your handlers, K-9's and supervisors.
KANINE 5.0 combines all profile creation into a single screen and allows your agency to create as
many named supervisor accounts as necessary. Supervisor accounts can view data, create reports
and add reviews, but cannot actually enter records or modify data.

Quick, on the fly, record creation.
Fast record entry is top priority in KANINE 5.0. To facilitate a method a quickly marking a record's
most important information, we created the Event Marker.
With just a couple of clicks, you can mark the current date and time, the current weather, username,
K-9 name and record type. Later, when you have time, simply finish the record that KANINE has
started for you.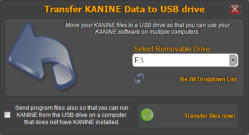 Easily transfer your data and, if needed, the program itself to a
USB drive.
Want to take your KANINE records home for the weekend? The USB transfer tool will make it
happen. Easy peasey, one button functionality.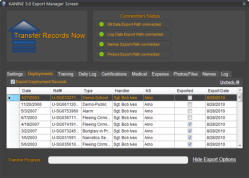 Easily export laptop records to your agency server.
The Export Manager makes transferring your K-9 records from your laptop to a shared database
on your agency's server, a 'One Button' process.
This allows users to work in a disconnected fashion on a daily basis and occasionally export their
records to a server so that supervisors can see data from all K-9 handlers.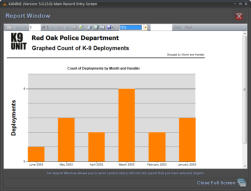 Create printable reports that dazzle...and protect your K-9 unit.
Data is nothing without the ability to send it into meaningful reports that show the specifics of what
your K-9 Unit has done. Send reports to e-mailable pdf files, or just print them to your printer.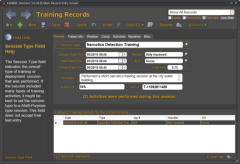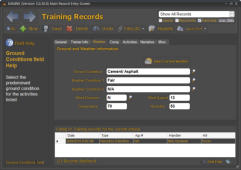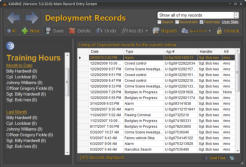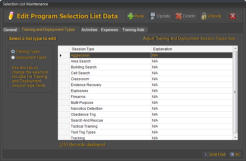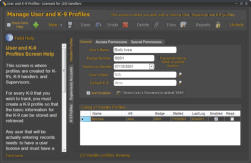 Only $99.00 per handler. Unlimited K-9's and named supervisor accounts standard
KANINE is a complete

K-9 tracking software

system and is used in agencies large and small throughout
the US, Canada and the UK. KANINE is not new. In fact, since 2000, KANINE has been tracking K-9
records for agencies, like yours, in all types of application. KANINE tracks and reports on all necessary K-
9 areas and has a plethora of functionality that sets it apart from other all K-9 software.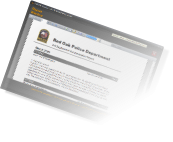 Code Blue Designs
54155 Edson Road
Pacific Junction IA 51561
Main: (712) 527-4330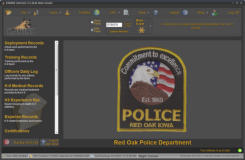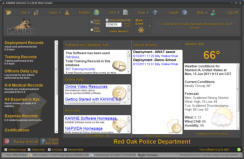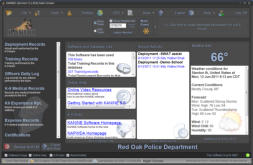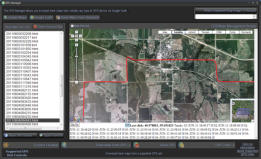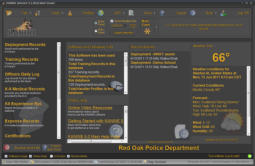 Night screen mode emits less visible light, protecting your officers.
With the click of a button, KANINE turns white backgrounds black, helping to keep you safer when
working at night.